When it comes to modified duty, many employers typically think of the dollars saved when an employee is kept on the job in a modified capacity. While cost is a major consideration, what is often overlooked is the negative psychological impact that results from being off work. This has detrimental effects for both employee and employer. Studies have shown that the longer an individual is away from work, the harder it is to get them back on the job. When an employee is home during the day they are exposed to day-time television, attorney advertisements, and the slower pace of being at home. As a result, prospects of successful recovery and timely re-entry into the workforce are diminished and delayed, as it is much more difficult to rehabilitate an employee placed on total disability because there is no transitional work.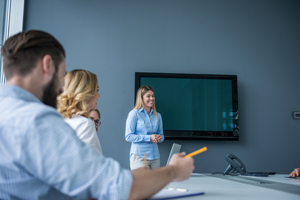 Because we realize that not all employers are able to offer modified duty at their worksite, and given the unavoidable negative consequences that this entails, HealthFirst is pleased to offer the only In-House Modified Duty Program of its kind. Our unique in-house modified duty program consists of a supervised 8 hour shift in HealthFirst's expanded "state of the art" rehabilitation center. The curriculum consists of a variety of educational safety booklets, videos, and other training materials with worksheets and tests. There are also numerous simple activities and materials we utilize to restore manual dexterity, strength and range of motion.
During this shift a number of things will happen:
The employee will be educated on their injury and proper body mechanics.
They will be instructed on safety and preventative measures in the workplace.
If the injured worker has been prescribed physical or chiropractic therapy, he or she will be seen in our fully staffed rehabilitation department.
They will perform their prescribed home exercises and stretches and have access to our full line of rehabilitation equipment.
If specific objectives must be achieved for the worker to return to regular duty, a program to reach these goals can be designed and monitored for a speedy return to work.
Benefits
As you can see, our In-House Modified Duty Program has been specifically designed to both actively rehabilitate your injured employee and reduce your company's lost time incident rate.
The benefits of this program include:
A controlled environment designed to encourage and prepare the injured worker to return to regular duty.
Reporting to "work" instead of staying at home.
Constant supervision.
Isolation of injured workers from non-injured workers.
An education source and Wellness Center
A rehabilitation source.
A positive strategy to decrease recovery time and the cost of your injury claims.
An essential tool in contemporary case management.