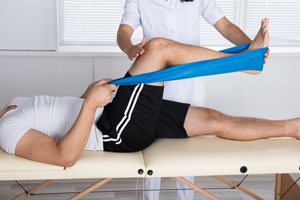 HealthFirst Medical Group provides physical therapy services for our industrial patients as well as our orthopedic and post-operative patients. Physical therapy is used as an adjunct treatment to accelerate healing, educate patients as to proper bio mechanics/ergonomics, strengthen, increase endurance, and expedite a return to full pre-injury status.
The physical therapy team consists of registered Physical Therapists with over 20 years experience in occupational medicine, licensed Physical Therapist Assistants and support staff.
The initial visit to physical therapy will consist of an evaluation by a registered Physical Therapist. Based upon the findings of the evaluation and a thorough review of the medical chart, a treatment plan will be formulated and goals will be established to address each patient's specific needs.
A normal course of treatment may include:
Therapeutic Exercises
Ultrasound
Electrical Stimulation
Whirlpool
Hot/Cold Packs
Joint Mobilization
Relaxation Techniques
Work environment risk factor assessment with remediation recommendations
Additional services provided include:
Industrial Back Evaluations
Work Site Evaluations
Ergonomic Consultations
Lifting Seminars
Train the trainer programs
Strength and Agility Testing